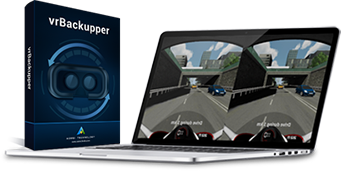 vrBackupper is a complete free and easy-to-use Oculus Rift backup, restore and migration tool. It helps you protect & manage your Oculus Rift and make you use Oculus Rift more easily. This software tool can work on Windows 10 64bit system.
Oculus VR games can only be stored in the installation directory of Oculus and Oculus old versions can only be installed on system partition. Thus, new downloaded games usually encounter a problem that there may be not enough space for installation. Luckily, vrBackupper can move Oculus Rift installation directory to other drives instead of system drive to avoid low disk space problem. It ensures Oculus work normally after migration.
vrBackupper Key Features
Backup Oculus Rift and its inclusions
Quickly make a backup of Oculus Rift platform as well as its inclusions, virtual reality games, virtual reality apps, installation directory, etc. to a safe place without data loss. Later, you can restore Oculus to your computer or other computers easily. Of course, you can selectively backup only VR games and apps. In this way, when it comes to recovery, you have to first install Oculus Rift and then restore these data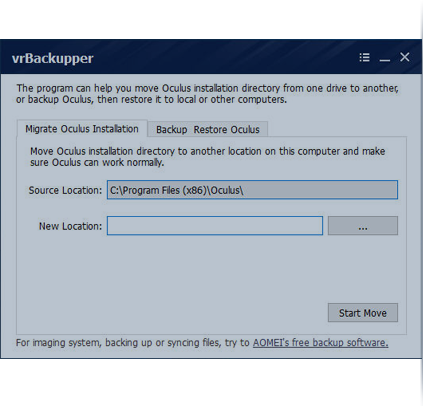 Restore Oculus Rift back and save all settings
When original Oculus Rift gets damaged, use vrBackupper to recover all data as well as personalized settings back; or, if you need to install Oculus and all its VR games/apps on another computer, you can just restore them to the destination machine with vrBackupper as long as you've ever made a backup of Oculus package. As long as your new system supports Oculus Rift, you can normally play VR game after restoration.
Move Oculus Rift to a different drive
Move Oculus installation directory to another drive to solve lack of disk space problem of installing games. vrBackupper ensures Oculus work normally after moving to new drive. It can also transfer Oculus installation directory to external drives, but you have to insert the external drive into computer first and keep its drive letter unchanged every time you use Oculus.
Free Download
Click on Link below to start download vrBackupper. vrBackupper is specifically designed to backup and restore Oculus Rift and its games, it can also move Oculus Rift installation directory to other drives instead of system drive to avoid low disk space problem. If you need full scale backup tool, such as imaging system, backing up or syncing files, you could use their free backup software – AOMEI Backupper Standard.
Technical Setup Details
Software Full Name: vrBackupper V1.0
File Size: 35.4 MB
Compatibility: Windows 10 64bit
Setup Type: Offline Installer
License: Free
Developer: AOMEI Technology
Download link: http://www.aomeisoftware.com/download/vr/vrBackupper.exe